MIAMI'S BEST COLONIC IRRIGATIONS/HYDROTHERAPY
Feel The Heal won BEST OF MIAMI COLONIC 2007 from the Miami New Times, and BEST COLONIC 2008 from the Miami SunPost!!!
Colon Therapist Suzy and a Client getting a colonic!

Colon Therapist Amanda Marse
Watch a movie during your colonic! Heck, bring your own!

1 colonic session-$90

4 colonic sessions- $320 (save $40)

8 colonic sessions-$600 (save $150)

Castor Oil Packing-$55 (click for details)

The Total Cleanse-$195.00
1 Colonic Session,1 Ear Candling Session, 1 Foot Ion Cleanse


*NO REFUNDS ON PACKAGES

*NO EXCHANGES FOR OTHER TREATMENTS

*YOU HAVE 6 MONTHS FROM PURCHASE DATE TO USE ALL SESSIONS

*MUST GIVE 24 HR BEFORE CANCELING OR YOU MAY BE PENALIZED

**Cancellation Policy, please read**

**Because of the high demand of appointments on Sat and Sun, we will need to take down your credit card # to hold your spot and avoid no shows and last minute cancellations. Our policy is 24hrs notice. As long as you give us notice you will not be charged, we just have to do this to try to avoid no shows. The fee is $45 if you do not give us this convenience.**

Benefits

"Death Begins In The Colon"

Of all the polite topics of conversation, the state of one's intestines is probably at the bottom of most people's lists. Let's face it: Irritable bowel syndrome, constipation, gas, diverticulitis and colon cancer are simply not things we like to discuss. And yet, as the old expression goes, death begins in the colon. Don't believe it? Ask any coroner. Autopsies often reveal colons that are plugged up to 80 percent with waste material." - Vegetarian Times, March, 1998
Interesting Fact about This Treatment
High colonics were discovered when the Egyptian Pharaoh was constipated and his physician saw the god Toth disguised as an Ibis on the Nile take a beaker full of water and put it up its rear. The physician mimicked the process. It was said that the Pharaoh had a "guardian of the anus," a special doctor one of whose purposes were to administer the royal enema. It was considered a royalty.
In pre-revolutionary France a daily enema after dinner was common. It was not only considered indispensable for health but practiced for good complexion as well. Louis XIV is said to have taken as many as 20,000 in his lifetime

What is a "colonic?"

A "colonic," also known as colon hydrotherapy, is the slow infusion of warm, filtered, water which enters the large intestines through the use of disposable instruments. Each client has their own set of disposable instruments, or pack, which are thrown away after the treatment. The therapist inserts a speculum 2-3 inches into the patient's rectum. Once the process begins, this method of cleaning out the bowels will also restore or improve ones regular bowel habits. Colonic irrigation also helps cleanse the body by quickly eliminating waste products, which would usually remain stagnant. During the procedure, the colon therapist may opt to massage the abdominal area to stimulate the treatment and help the process.

What is the purpose of having a colonic?

Waste, excess material, toxins, gas, hardened feces, undigested food, parasites, bacteria, Candida, and other waste products tend to infest and impact the colon, our most precious organ causing many problems for many individuals. All of the following types of waste are considered to be toxic and if they re-enter the blood steam and circulate through the body, they can make a person feel very weak, tired, and constantly ill. As well, all of these waste materials can ruin the colon's ability to absorb the vitamins and nutrients your body needs to function and would normally absorb if it was fully healthy. A buildup of this kind can also destroy and slow down the muscular contractions, also known as "peristalsis," which is responsible for producing bowl movements. Without this muscle movement, you will have what is called an "atonic colon," which basically means a "lazy colon" that does not have the muscle action necessary to help produce healthy bowl movements. This can lead to constipation, build up, and even worse, more serious conditions. The skin can also be affected from excess waste lying in the colon.

Since the immune system is 70% based off of the digestive tract, it is imperative that we keep our colon lining's healthy and clean in order to stay healthy ourselves.

Interesting Fact's We Came Across:

Many health officials state that constipation is a very powerful thing, more than we realize. In fact, they say that it is the number one affliction that is actually the cause of every ailment. With that said, if this information holds true, then constipation could be the most curable ailment that is harming human beings. Since constipation affects the colon which plays an integral part in the role of the immune system, the entire body is effected as well!

Ponder that!
If you experience one or more of the following, then it's time to detoxify:
Frequent fatigue and low energy

Flatulence, gas & bloating

Excess weight

Food allergies

Impaired digestion

Irritability, mood swings

Bad breath & foul-smelling stools

Parasites in stool

Frequent colds

Recurring headaches

Chronic constipation

Irritable Bowel Syndrome (IBS)

Protruding belly ("pooch")

Powerful food cravings

Skin problems, rashes, etc.

Metallic taste in mouth

Hemorrhoids
*Clients who suffer from depression, lethargy or stress often benefit from the therapy also.
3 Important Purposes of a Colonic
1. Cleanse the Colon:
Toxic material is broken down so it can no longer harm your body or inhibit assimilation and elimination. Even debris built up over a long period is gently removed in a series of treatments. Your colon can begin to co- operate again as it was intended. In this sense, a colonic is a rejuvenation treatment.
2. Exercise the Colon Muscles:
The build-up of toxic debris weakens the colon and impairs its functioning. The gentle filling and emptying of the colon improves peristalsis (muscular contraction) by which the colon naturally moves material.
3. Reshape the Colon:
When problem conditions exist in the colon, they tend to alter its shape that in turn causes more problems. The gentle action of the water, coupled with massage techniques of the colon therapist, help to eliminate bulging pockets of waste and narrowed, spastic constrictions finally enabling the colon to resume its natural state.
How long does a colonic take?

Almost every treatment will take 40-45 minutes. It may be shorter or longer, depending on the judgment of the therapist and the wishes of the client.


Does a single colonic completely empty the colon?

Almost never. For most people, there is a considerable amount of impacted feces in the colon. When hardened, rubbery or wallpaper like, it is called Mucoid Plaque. To remove this matter, it will take more than one colonic to get rid of it. Not everyone has Mucoid Plaque but there is no way to tell by just looking at a person. Even a thin, healthy looking individual could have it.

As well, the next series of colonics will continue to soften the waste. It simple takes more than one process. It is unlikely that a client will have a cleansed colon within a couple of weeks; it could take months. On many occasions there are clients that come in on their first colonic and either do not release any matter or on the contrary, they release as much as one could imagine.

Clients who do not release wonder, "Why should I come back if nothing came out? I must be clean!" BUT THIS IS NOT TRUE! The possibility of having impacted fecal material in our FIVE foot long colon's is so high that it couldn't possibly be waste free. And remember, this is a safe, holistic, treatment which is administered with warm purified water ONLY. No chemicals are used to loosen all of this waste. It would be like removing tar with water!! So *remember,* colonics are indeed a process. We encourage our client's to follow up with their appointments for their own well being and personal goals.

What do I do to prepare?
The day before the colonic you want to eat light. Soups, salads and smoothies are recommended. The day of the colonic stick to the same diet plan, and do NOT eat or drink 2 hours prior to the treatment. This is because you do not want a full bladder or stomach. Abdominal massage will be performed during the treatment and it will be more uncomfortable on a full stomach. Also helpful, but
not essential, emptying the rectum with a bowel movement just prior to the colonic saves time and permits more to be accomplished. (This does not mean use a laxative, stimulant, or tea. If you can have a natural movement, go for it!)
Will it help me lose weight?
The following is a quote from the January 11, 1999 issue of USA Today:

"Most people who eat the standard American 'goo and glue' diet have about 5-10 pounds of matter stored in the colon. It's said that, according to the autopsy, John Wayne had 40 pounds of impacted fecal matter in his body at death. Elvis reportedly had 60 pounds."

One of the simplest ways to lose weight is to cleanse the colon. The colon, according to world famous Dr. Bernard Jensen, carries 4 to 12 pounds of old fecal matter alone. Cleansing the colon is just the beginning of a new level of health. Combined with a proper diet and exercise regime, it will undoubtedly
facilitate weight loss.
What Are You Trying To Achieve?
The objective should not be an empty colon or just weight loss but rather a well functioning colon. Yes, these are byproducts, and good ones at that, but the true goal here is good health.
Some people say that colonics rid the body of intestinal flora and other valuable nutrients. Is this true?

The truth is that when waste is removed, intestinal flora actually increases. Good bacteria can only be reproduced in an environment that is clean and healthy. An environment which has been cleansed of rotting, toxic materials. A newborn baby has the cleanest intestines, which is why they immediately begin to produce intestinal flora. When waste is cleaned out of the colon, the good bacteria can grow in its natural arena. If this is a fear of yours though, take some acidophilus after your colonic. We recommend "Bio K," available in the refrigerator section of any health foods store.
Are "colonics" safe?

Yes they are very safe. All of the equipment used at "Feel The Heal" is state of the art and top of the line. The disposables are brand new to each client and discarded after each use. The pre-filtered, purified water is introduced at a low gravitational pressure so there is no danger of bowel perforation. As well, unlike the regular use of laxatives, colon hydrotherapy is not habit forming in that the body will not rely on it for "peristalsis" and in fact it even improves colon muscle tone.
Are they messy?

No, not in the least. There is no mess or odor and all of the waste is carried out of the body through an enclosed tube. A clear window allows the therapist to analyze waste and the client to view the appearance of the waste. This makes for great conversation so you can learn what is going on in your body and so your therapist can assess the condition of the colon. All waste materials are piped directly into the machine which leads into the plumbing and down into the sewage.

As well, "Feel The Heal" understands the anxiety that is associated with these treatments so we utilize a special natural extract, which completely removes any odors when using the restroom
Does it hurt ?

Again, no. The insertion of the speculum is quick and pain free. It may feel uncomfortable but it is slight and does not hurt. You may feel discomfort at first but it is infrequent and does not last for the duration of the treatment.

How does a colon hydrotherapy treatment compare to an enema?

An enema only reaches the rectum and the lower portion of the colon whereas a colonic affects the entire length of the colon. The large intestinal tract approximately 5 feet in length. Colon hydrotherapy is far more effective and non-habit forming. According to
learned centenarian Dr. Norman Walker, "One colon irrigation is equivalent to thirty enemas."

Will I experience any intestinal discomfort or fatigue after the cleansing?

Most people don't but everyone is different. Listen to your body. Since the cleansing rids the body of toxins, many people experience a boost of energy, a flattened stomach and far less bloat than they may have in the past. Depending on who you are though, it can also stir up a lot of debris and toxins and you may experience some minor nausea or fatigue. If any discomfort occurs, it is recommended that you rest for a bit with a heating pad, drink peppermint or ginger tea, eat soup, and eat light for the duration of the day. Most people are fine though, they return to work, eat a healthy meal, work out and feel great.

Can I work directly after having a colonic?

Certainly. You can return to work just as you would after a regular bowel movement
Contraindications
If you are suffering from any of the following conditions it will be necessary for you to get clearance from your doctor or consultant before undergoing colonic irrigation:
Diverticulitis

Ulcerative Colitis

Crohn's Disease
In the case of diverticulitis and ulcerative colitis it would be necessary to establish whether the condition was currently in its inflamed state. Colonics can only be performed when there is no inflammation.
If you are suffering any of the conditions listed below then you should not have colonic irrigation:
Severe Cardiac Disease (uncontrolled hypertension or congestive heart failure)

Aneurysm

Severe Anemia

GI Hemorrhage/Perforation

Severe Hemorrhoids

Cirrhosis

Carcinoma of the Colon

Fissures/Fistulas

Pregnancy

Abdominal Hernia

Recent Colon Surgery
If you are in any doubt please consult your doctor.
What Does an Ideal Bowel Movement Look Like?

An ideal bowel movement is medium brown, the color of plain cardboard. It leaves the body easily with no straining or discomfort. It should have the consistency of toothpaste, and be approximately 4 to 8 inches long. Stool should enter the water smoothly and slowly fall once it reaches the water. There should be little gas or odor.
Read More about Colors (green stool, pale stool, yellow stool, blood in stool, mucus in stool, pencil thin stool, infrequent stool, and more)

Feel The Heal Uses A Dotolo Closed System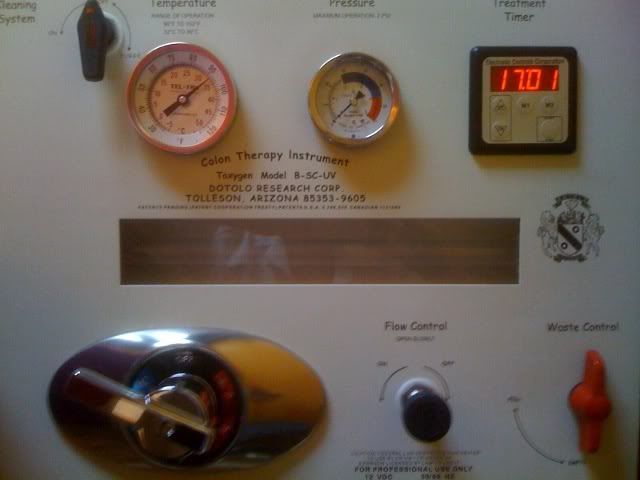 All Disposable Instruments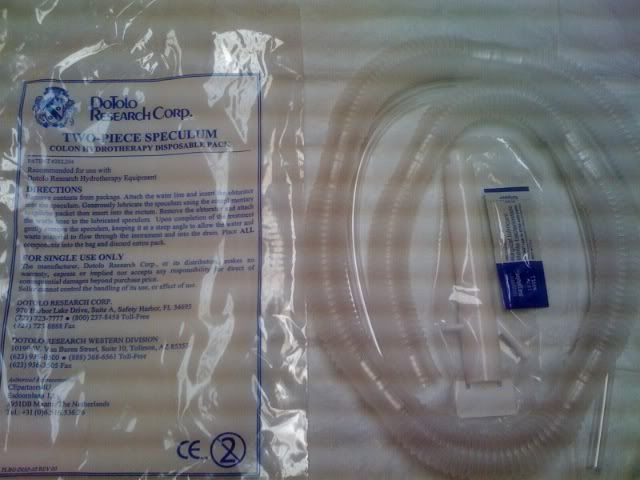 Pictures of stages of releases during a colonic
What are Parasites?
A parasite is an organism that lives by feeding upon another organism. Parasites living in the human body feed on our cells, our energy, our blood, the food we eat and even the supplements we take. It is a common misconception that parasites exist only in third world countries. Over 130 types of parasites have been found in Americans. Parasites are transmitted from person to person, pets, food, insects, soil, unfiltered water and even tap water.
(1) The hookworm latches on the walls of the colon with its sharp teeth where it feeds on blood. (2) The tapeworm is the longest parasite. A mature adult can lay a million eggs a day. (3) Tapeworm eggs embedded in the colon. (4) The roundworm can grow to be 20 inches (50 cm) long and lay 200,000 eggs per day. (5) Pinworms migrate outside the colon during the night to lay their eggs around the anus. This causes the nightly itching of many unsuspecting victims.
How can I get a Parasite?
Contaminated or unfiltered water
Contaminated soil
Contaminated fruits and vegetables
Raw or rare meat
Pets
Mosquitoes
Contact with feces
Contact with someone with parasites
Healthy to unhealthy Colons
Normal Colon Colitis Prolapsed Diverticulosis
Check out this article that I-ACT posted a few months ago in 2007!
A 66 year old chronic schizophrenic who lived in a nursing home was brought to the emergency department with the chief complaint of constipation, along with diffuse abdominal
pain and shortness of breath. His nursing home records indicated that he had a vigorous appetite, despite not having had a bowel movement for more than a month. Within minutes of
presentation, the patient became lethargic and unresponsive and was subsequently incubated. His rectal temperature was 102°F, and his white blood cell count was 22,000/mm3. He had a ventral hernia, his abdomen was extremely distended without bowel sounds, and a plain film of the abdomen revealed absence of air in the right colon. In the operating room, a large, ischemic, dilated loop of bowel was removed. The patient died 3 days later of fulminate sepsis.
Submitted by Carl K. Hsu, MD, Chief Resident, Mount Sinai
School of Medicine Integrated
Residency in Emergency Medicine at Beth Israel Medical
Center and Elmhurst Medical Center, New York
Transit Time
Transit time is the time you eat to the time you use the bathroom. Right now studies show that the Standard American Diets average transit time is 65-100 hours. That's equivalent to 4 days without using the bathroom, that is TOXIC!
If we are eating 3 meals a day 365 days a year and only using the bathroom 1x per day then at the end of the year we have 720 meals left behind!
A person with a high fiber and well balanced diet has an average transit time of 20-45 hours
Great Colonic Quotes
"The Rolls Royce of colon cleansing is without question -
Colonic Hydrotherapy."
CIA quote
"If every person in this country was tested nutritionally and had their colons cleaned out, 95% of our medical profession would have to seek other means of employment." The Healthview Newsletter
"Until you get your colon cleaned, your bloodstream remains a veritable cesspool constantly dumping toxic materials." Professor Win Paris, Dean of Pacific University
"If you don't digest your food quickly, some microorganism will digest it for you ,making toxins"-I-ACT
"About the only place you see a normal healthy colon today is in an anatomy book" -V.E. Irons
Links to related articles about health, our colon and colonics
http://colonics.wordpress.com/category/celebrity-colonics/
http://www.naturalnews.com/022543.html
http://yourcolon.wordpress.com/
http://www.news-medical.net/?id=38047
Informative Books about Colon Therapy
-Inside Poop by Scott W. Webb (www.colonicexpert.com)
-Colon Health by Dr. Norman Walker
-Tissue Cleansing Through Bowel Management by Bernard Jenson
-Natural Cures "They" Don't Want You to Know About by Kevin Trudeau
-What's Your Poo Telling You? by Richman and Sheth
-Guide To Better Bowel Care by Dr.Jensen
-Gut Solutions by Brenda Watson and Leonard Smith
-What Your Doctor Wont Tell You: The Complete Guide
by Jane Heimlich
Detox for Life: Your Bottom Line-It's Your Colon or Your Life by Loree Taylor
Informative Books about Parasites
-Guess What Came to Dinner? By Ann Louise Gittleman
-Animals Parasitic in Man by Geoffrey Lapage
-Parasite Rex : Inside the Bizarre World of Nature's Most Dangerous Creatures by Carl Zimmer
-Overcoming Parasites Naturally by James R. Overman
-The Parasite Menace by Skye Weintraub
-Parasites: Latching on to a Free Lunch (Discovery!) by Paul Fleisher
Celebrities , Athletes, Professionals, all benefit from Colon Therapy. Some of the brightest and healthiest athletes and celebrities have already cashed in on this healthy alternative. You wanna feel like a celebrity, come to FEEL THE HEAL for celebrity treatment in a laid back atmosphere central to miami beach, south beach , and ft. lauderdale
*IF WE STILL DIDN'T ANSWER ANY QUESTIONS FEEL FREE TO CALL THE OFFICE AT: 305-466-9268
Q+A's on Colon Hydrotherapy/Irrigation
More Info on Colonic Irrigation
More info on the anatomy of the Colon
Colonic Irrigation/Hydrotherapy Miami,Florida:
Feel The Heal
Miami,Florida
21300 West Dixie Hwy
Miami Fl 33180
Home About Me Swedish & Deep Tissue Massage Colonics Teeth Whitening Stone Therapy Massage Pregnancy Massage Facials&BodyTreatments Spa Treatment & Massage Ear Candling Ion Foot Detox Testimonials Directions/Hours Sitemap Buy Gift Certificates or Prepay Treatments in our New Virtual Store